Places to Get The Most Lip-smacking Street Food in Varanasi
The most spiritual Indian place, Varanasi is popular for its lip-smacking street foods. Hence, you must know the wildly known eateries to try them out.
Lalman's Golgappas
Head towards Lahurabir Chowk. It is popular not only because of the tangy tamarind water. People praise its golgappas due to the yummy filling. They combine chickpea, crushed potatoes, and spices for the taste. They also provide a sweet type of this snack which seems more like a dessert.
Puri Sabji & Jalebi at Lanka
Head towards Banaras Hindu University
(
BNU). Superstar Rajesh Khanna made this place popular. Kailash Yadav is the one who will provide you with delicious sabzi and puri. He makes it using potatoes, pumpkin and black gram. This place is also known for its sweet Jalebis. If you order 4 puris with sabzi, it might cost you around Rs. 25.
Pahalwan Lassi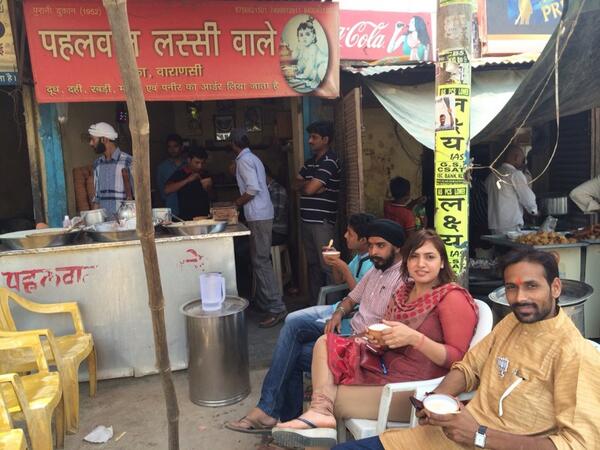 Around BNU, there is another popular place providing lassi. The sons of Panna Sardar are the owners. They offer thick lassi in a clay cup. You will clearly see a cool layer of malai on its top.
Tea at Pappu's
Head towards Assi Mohalla. There you will find a popular tea stall serving lemon tea and milk. They are always ready to share the political news with the visitors. They include Hajmola to add a unique flavor to the lemon tea with the taste of heeng.
Jwala Prasad's Rasedar Pakora
Head towards Lahurabir Chowk. The stall is open in the evening hours. They provide rasedar pakora which is crisp, yummy and in demand. They make it using besan
(
gram flour), spinach with spices for taste. After kneading, they deep fry it and then, toss them in a hot curry. They serve it with sohal. You can order these pakoras in two different forms: plain and colorful. The colorful one is provided with bhang, a popular drink in India.
Umashankar Sahu's Kachoris
Head towards Chetganj. Sahu, a peddler, provides small fried kachoris. He serves it with tamarind chutneys. These kachoris are yummy in taste. He garnishes it with carrot and radish.
Kashi & Deena Chat Bhandars
Head towards Godowlia Chowk. Deena is a popular place for both the locals and tourists in Varanasi. They provide tamataar chaat. It is a different tasty snack. They make it using tomatoes. Visit the place in the winter season to get chura matar. It is filled with desi ghee. They serve it in clay cups. So, you should avoid dieting in your visit to Varanasi.
Baati Chokha
Head towards Puran Das Road. You must try their sattu parathas. However, their specialty is litti chokhas for an authentic taste of Bihar and Uttar Pradesh.
Pizzeria Vaatika Cafe
Head towards Assi Ghat. You will get some irresistable Italian foods here. You can also order Indian and Chinese foods. They will offer mouth-watering pizzas. You should not forget to have apple pie before leaving the place. It will be served with ice-cream.
The Ram Bhandar
Head towards Thatheri Bazaar. It will serve you steaming tangy kachoris. Don't forget to order the delicious aloo subzi. You should also try the sweet jalebis in the end.